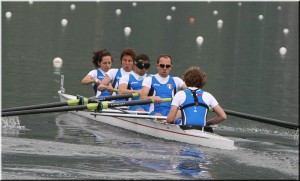 The boat is designed for four rowers Adaptive. The hull is composed of honeycomb carbon and Kevlar textiles, arranged to form the sandwich structure. The rowing deck is produced, using carbon textile, prepregnated and cooked in autoclave and under vacuum pressure.
The available configurations are: èlite, Wing and Carbon
Depending on requirements we can put the cox's lodging in the stern.
Standard colour: Sky-blue (extra charge for other colours RAL)
Weight and norms FISA GUARANTEED.

Technical sheet

Boat
Mold number
Athletes (Kg)
Length (m)
Width (cm)
Wing
Carbon
Taditional

Pegaso
Adaptive LTA 4+
W413
C413
T413
70-80
12,72
43,8
Adaptive LTA 4+
W417
C417
T417
80-95
13,21
45,2
Wing Series
The boats that belong to series Wing are fixed with the wing-rigger in anodized aluminium.
The hull is designed without internal shoulders and has got reinforced sides where the rower discharges his strength.
The hulls and the covers of Wing collection are produced using carbon fibres, Kevlar textile and epoxy resins.
A fantastic relation between lightness and stiffness distinguishes our boats, thanks to the use of "honeycomb" textile, that also guarantees an extra hardiness of the hull.
We use epoxy resins, that are often used in aeronautical and automotive fields.
The hull and its components are subjected to catalyst processes (hot and airtight processes) that provide an excellent result in lightness and stiffness. The internal components (ultralight carbon trucks with ball bearing chassis, rowing deck, bulkhead etc) are manufactured using prepregnated carbon, baked in autoclave.
The multilayer and carbon foot stretcher is adjustable (in height and list) and has shoes.
Weight and norms are guaranteed FISA.
Standard colour: Sky-Blue
Carbon series
It is provided with a carbon mono-tube rigger made with the autoclave. The boat structure is exactly the same of an èlite boat and it is composed by covers and hull, that has got internal shoulders, on which is fixed the carbon bearing.
Hulls and covers are produced using carbon fibres, Kevlar textiles and epoxy resins.
A fantastic relation between lightness and stiffness distinguishes our boats, thanks to the use of "honeycomb" textile, that also guarantees an extra hardiness of the hull.
We use epoxy resins, that are often used in aeronautical and automotive fields.
The hull and its components are subjected to catalyst processes (hot and airtight processes) that provide an excellent result in lightness and stiffness.
The internal components are produced with pre-impregnate carbon, then cooked in autoclave.
Elite Series
These boats are furnished with anodized aluminium riggers. In the hull are situated the shoulders, on which the aluminium rigger is fixed. Both are made with carbon fibres, Kevlar textiles and epoxy resins.
A fantastic relation between lightness and stiffness distinguishes our boats, thanks to the use of "honeycomb" textile, that also guarantees an extra hardiness of the hull.
We use epoxy resins, that are often used in aeronautical and automotive fields.
The hull and its components are subjected to catalyst processes (hot and airtight processes) that provide an excellent result in lightness and stiffness.
The internal components (ultralight carbon trucks with ball bearing chassis, rowing deck, bulkhead etc) are manufactured using prepregnated carbon, baked in autoclave.
The multilayer and carbon foot stretcher is adjustable (in height and list) and has shoes.
Weight and norms are guaranteed FISA.
Standard colour: Sky-Blue