08\08\2014
The Euro Masters Regatta – season highlight for many!
Almost 2000 athletes from 32 countries were racing at the Regatta Course Munich-Oberschleissheim. Among them was distinguished Austrian team that competed in SALANI boats in the Womens 4x and 2x.
17 boats started in the MW4x-B race in fair conditions with a slight breeze turning from tailwind to side- and eventually headwind along the 1000m course. The Austrian compound crew from WRK Argonauten, WRC Pirat and WRC Donaubund handeled their Salani-Boat (W414 mould) with ease, great fun and high speed. Especially with the wind conditions changing it was easy to keep it going straight and cut through the waves. The girls were leading the race from the 300m mark on and kept pushing through the middle 500m. At the beginning of the grandstand the chasing crew attacked but the leading Austrians found another gear and won the race by half a length.
The MW2x-B was equally successful in an even larger field of 20 boa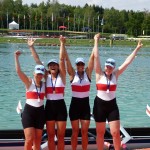 ts. This time the boat was a T208 mouldrowed by two of the4 WM4x-B girls. It fits perfectly for light women crews and its stability in changing wind conditions and waves were greatly appreciated. The girls won their heat with the 4th fastest time overall in an impressive race with a start-to-finish lead. Original-Tone of Andrea, the stroke women "The boat is extremely quick at the start, so we could reach the lead very early. With long hard strokes we popeled the boat the next 2 minutes and traveled huge distance on each stroke. This made it a real fun to go on maximum speed. Sprinting at the end was hard work but the boat reacted immedeately and brought us savely over the line."
The victorious crew stopped by the SALANI booth as well for great Italian coffee and a chat with the boss. Summed up: Salani is always a pleasure !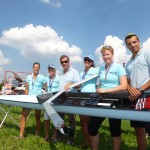 Thanks to Thomas for his great job and for nice girls's nice words. For questions and answers on Salani Boats in Austria please feel free to contact: Thomas Drucker thomas.drucker@tele2.at